Although in 1999 there were no drones, the activist photographer Yann Arthus-Bertand published his book The Earth from the Sky that collected beautiful photographs taken from light aircraft for ten years. The project, endorsed by UNESCO, shows beautiful images of our planet at high altitude. We have been inspired by his work because we share the same objective: to encourage people to be responsible in the treatment of our Earth.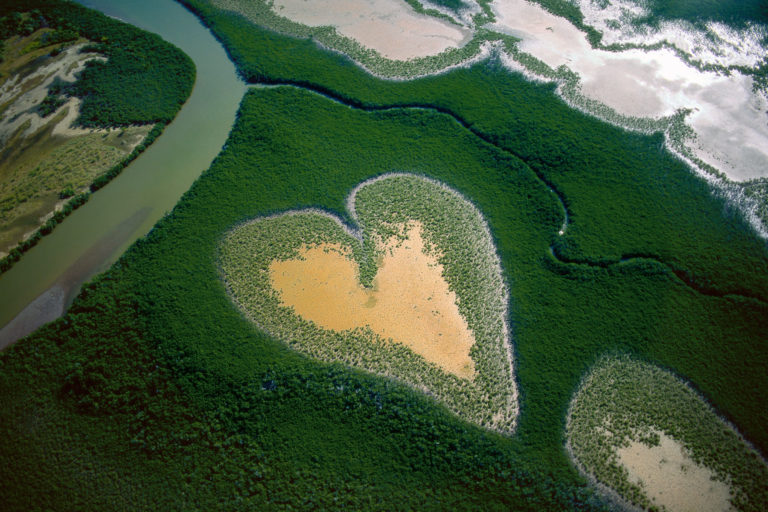 When drones did not exist
It was in 1995 when I attended the photography exhibition "The Earth from Above" by the activist photographer Yann Arthus-Bertand. And I fell in love with it. At that time the drones were nothing more than cartoon illustrations. Aerial photography was simply an odyssey.
In 1995 drones were nothing more than cartoon illustrations and aerial photography was simply an odyssey.
Since the Internet was still difficult to access (with modems that made the noise of a damaged robot that took an eternity to ignite), I bought the catalog of the exhibition. I needed to review, from time to time, those images of impossible landscapes with bright colors and textures; of small human beings captured in precise moments; of structures and lights that were embraced in a perfect way… In short of the entire planet with all its energy and beauty. Look at how wonderful they are:
A collection that extols the beauty of the Earth and helps preserve it
When we set out to launch the first of the HandleTheChange POPSICASE Collections, following our premise of telling stories, inviting reflection and supporting causes, these images came to my head, and they did not disappear from there. The team found the idea formidable, so we connected with Yann Arthus-Bertrand. We proposed him to collaborate with Good Planet, the NGO he had founded, with a line of design inspired by his work. And the idea loved it 🙂
Currently, the existence of drones greatly facilitates the photographing of almost impossible spaces from above. There are many young photographers who capture spectacular images. We have chosen some of them, we have connected with their authors, and converted them into POPSICASE.
We will publish them throughout the year. We'll be starting with the WATER line, with natural scenarios of oceans, rivers and lakes. These are the places that we propose:
Frozen Lakes in Yucon, Canadá
We loved this photo taken by Sean Johnston in Yucon, where climate change has also been noticed with the increase in winter temperatures of up to 4 ° C. Fortunately, measures are being taken to alleviate it.  
Natron Lake, Tanzania
The color of the lake is due to the salt-loving microorganisms that live there. Around this lake ecotourism activities are developed that preserve the fauna, above all the numerous birds that live there.
Heart Coral Reef, Australia
Bondi Beach, Sydney, Australia
Bondi Beach is a beach in Sydney that won in 2016 the most sustainable beach award in Australia. This photo, taken by Mudassir Ali at the perfect moment, we loved for its nuances :).
Cherating Beach, Malasyia
We look at this photo taken by Pok Rie on the Cherating Beach of Malasya, a place where ecotourism and biodiversity conservation are promoted.
Cala Macarella, Menorca, Spain
The difficult coexistence between sustainability and human pressure has made the entities that manage Cala Macarella, the most beautiful on the island of Menorca, have taken measures such as the prohibition of access by vehicle.
Aiguafreda, Costa Brava, Spain
The Catalan Costa Brava struggles to preserve its ecological balance despite massive tourism and real estate speculation. This photo of Aiguafreda reminds us of the beauty of its incredible landscapes that it is up to us to preserve.
Laguna de San Rafael, Chile
Glaciers and eternal ice rise up in the San Rafael Lagoon National Park Biosphere Reserve, a condition granted by UNESCO that guarantees the conservation of the area's biodiversity.
Þjórsá River, Iceland
The river Þjórsá in Iceland passes and bifurcates, as if they were capillaries. This photo was taken from a plane at sunrise, by photographer Freysteinn G. Jonsson.
The Collection Textures of the Earth
And that's how the collection is finally applied to our POPSICASE.
Who is Yan Arthus-Bertand?
Yann Arthus-Bertrand is an environmentalist, activist, journalist and photographer, who has also directed films about the impact of humans on the planet. His book Earth from Above (1999)[1] inspired us to create this collection, as well as his films Home(2009) and Human (2015). He founded Good Planet Foundation in 2005, an entity that is evolved to help people and companies to reduce and offset their climate impact by funding projects on renewable energies, energy efficiency and reforestation. It is because of this commitment that Yann Arthus-Bertrand was designated Goodwill Ambassador for the United Nations Environment Programme on Earth Day.